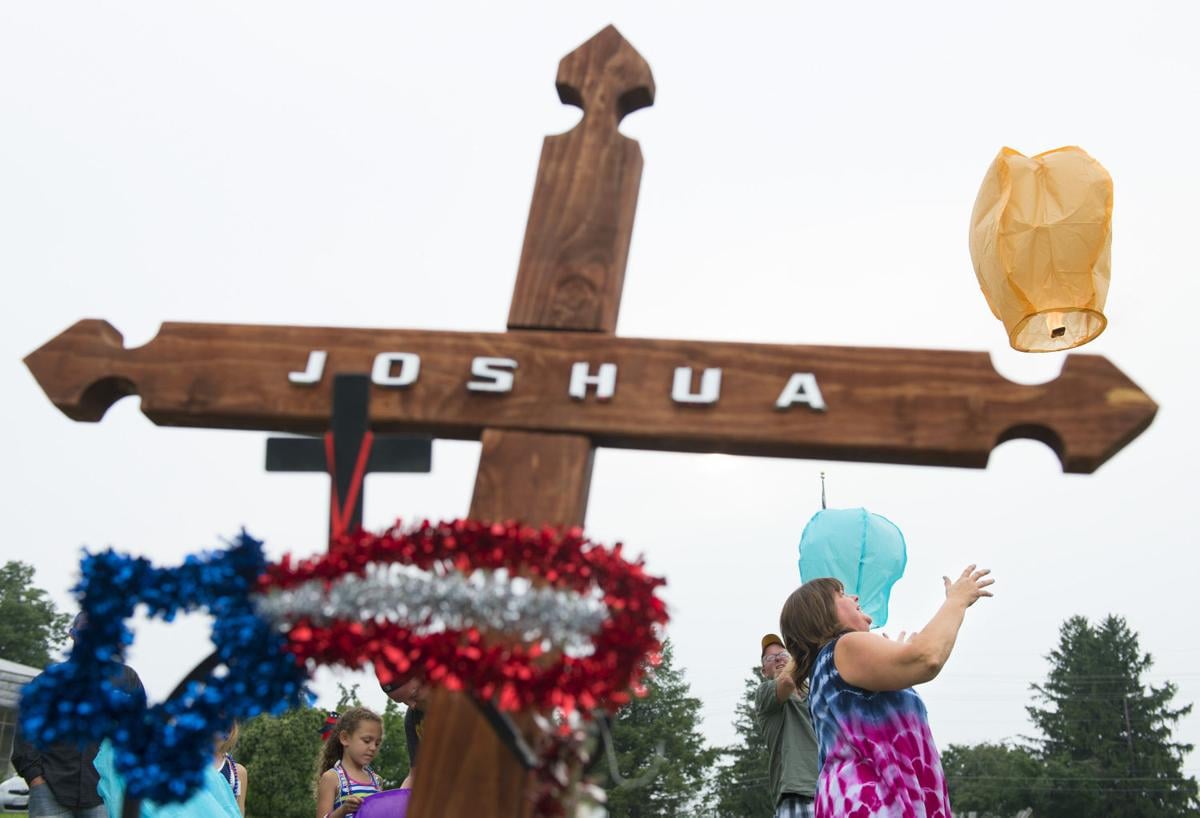 On July

2, 2003, Joshua Wayne Crawford was found murdered in his Frederick apartment on his 21st birthday.....The crime remains unsolved.
Authors Note

-

I have conversed at lengths with Joshua's mother Terry Scalera Horman.

I cannot imagine how she must feel losing her son in the manner in which she did. This is a very solvable case. Even after all these years. I would first like to apologize to Terry for it taking so long for this post. It has been some time between posts mostly due to situations out of my control. I would like to point out Terri only discussed the basics of the case with me. Only the things that have been already covered in the media as she respects this is still an active investigation. Here we go.
Date of Murder:July 2, 2003 at 6949 Exeter Court at Kingsbrook Apartments in Frederick MD.
Case Number: 03-104309 Frederick Police Department

* Crime was classified victim specific.
* At 12:41 p.m., deputies received a call about a person in cardiac arrest and arrived at the apartment at 12:42 p.m.
* Found bound with duct tape when authorities arrived.
* The cause of death was ruled asphyxiation and blunt forced injuries.
* Peavey 6 String Predator Electric Guitar, hunter green base, chrome, a black neck and whammy bar was missing from the apartment.
* All the window screens at the residence showed signs of being "messed with," the frames of the screens appeared to be bent.
* Mr. Crawford was familiar to local law enforcement, having been arrested on drug charges in 2001 by the sheriff's office and the Brunswick Police Department, court records show. (This is mentioned only for reference purposes. It is not meant or intended to diminish Josh's character in any way. In fact this is a telling clue imo. )
Frederick County Sheriff's Cpl. Jason West said Crawford died from suffocation and "blunt force injuries." A few items were thought to be missing, including a guitar. The sheriff's office has received a "multitude of tips" since 2003 -- and investigators are still pursuing a lead from last month -- but most have led investigators nowhere.
Horman said her son knew who killed him because he must have opened the door since there were no signs of forced entry.



Death investigated as a homicide
FREDERICK, Md. - The death of a 21-year-old Frederick man was being investigated as a homicide, the Frederick County Sheriff's Office said Thursday.
Joshua Wayne Crawford's body was bound with duct tape when it was found Wednesday, police said.
Police found the body after they responded to a call for a heart attack at 6949 Exeter Court, Apartment 104, at 12:41 p.m., police said.
Anyone with information may call the sheriff's office Tips Line at 301-644-4131.
Obituary from Legacy.com
Joshua Crawford
Obituary
Mr. Joshua Wayne Crawford, 21, of 6949 Exeter Court, Frederick, died Wednesday, July 2, at his home.
Born July 2, 1982, in Frederick, he was the middle son of Donald E. Crawford and Terry Lynn Scalera Horman both of Frederick.
He was baptized into the Brethren Church in March 1989.
He had worked for Scalera's Custom Painting, Frederick.
As a painter, he enjoyed creating artwork as a hobby.
He also enjoyed fishing, playing pool and spending time with friends.
In addition to his parents, he is survived by an older brother, Brian Crawford, and younger brother, Marshall Crawford, both of Frederick; paternal grandparents, Gene and Mary Crawford of Frederick; maternal grandparents, Andrew Scalera and wife Marge of New York, and Barbara Barbour and husband James of Florida; stepfather, Yancy Horman of Frederick; stepbrothers, Samuel Lee Horman of Poolesville, and Theodore Horman of Frederick; and numerous aunts, uncles and cousins.
He also will be remembered by his godparents, Todd and Roxanne Crawford of Walkersville; and friends, Jason Boone, Christopher Koogle and Anna Darr.
Friends may call at Keeney and Basford Funeral Home, 106 E. Church St., Frederick, on Monday, July 7, from 2 to 9 p.m. The family will receive friends at the funeral home Monday, from 2 to 4 and 7 to 9 p.m.
Funeral service will be held at the funeral home Tuesday, July 8, at 10 a.m. The Rev. Charles G. Beekley will officiate.
Interment will be in Frederick Memorial Park at Linden Hills.
Links:
Fred
erick News Post 7-2-2015
Frederick News Post 7-3-2003
Frederick County Sheriff's Office Unsolved Death Investigations Page
WTOP Article 7-1-2012
Josh's Find A Grave Page
The Gazette 10-24-2003
Contact Information for Joshua's Mom:Terry Scalera Horman
MY THOUGHTS
Very tragic case. Terri stated there was no signs of forced entry meaning Josh knew his attackers. I say there was more than one due to it being risky to have just one person try to subdue Josh. The people involved were not experienced in this type of crime. Duct Tape and a Blunt Object were used. Experienced criminals (In that type of crime) would've likely used something else. A gun or something. They may have had one. Who knows.
A gun is usually is a good way of controlling someone if they had one. They wouldn't need to use the Duct Tape to subdue him. I don't believe they had one.
He died of asphyxiation and blunt forced injuries. Meaning that whoever was involved didn't want to simply stab him or shoot him. That is also telling. Duct Tape was used on his face/head, legs, and hands. For obvious reasons. To subdue him as well as prevent him from seeing them. That is also interesting. If they wore masks there would be no need to prevent him from seeing them. I believe the duct tape was utilized to prevent having to look at him. I believe Josh knew his attackers. I don't believe much planning or thought was put into this either. I believe that a confrontation between Josh and the party responsible was "brewing" for some time. And it eventually culminated in this. I believe the party responsible were either friends or acquaintances of Josh. And during the crime the attackers may have not had it in them to "finish him off". I doubt that they intended on killing him. But didn't want to help Josh afterwards either. This is drug related in my opinion. And whoever the responsible party is knew Josh. And the friends of Josh (Some) know who did this as well. It would be easy for law enforcement at the time to apply the appropriate pressure to get answers on who did this. They seem to have been either unwilling or unable to do so. I have some other details I may add in an update sometime in the future.
UPDATE 5/10/2017
Other information and facts that isn't covered in other articles:
Apparently, Josh's Mom (Terri) was trying to contact her son on July 2nd all day and was unable to. So she asked her son's girlfriend at the time to go check on him. (I'll call the person "Anne") Anne apparently was unable or unwilling to check on Joshua. However 2 of Josh's friends did end up coming to Josh's apartment. They were unable to gain entry to the house upon arriving. So they entered through an unlocked window. This is an interesting aspect in itself. In one of the few articles online it states and even shows LE taking special interest in the window stating it shows evidence of tampering. I am not sure why this is the case since I would assume that the 2 friends would've informed LE how they were able to enter the house to begin with. You would think that either they would've volunteered the information upon explaining to LE how they discovered Josh's body. Or LE would've asked them how they entered and they would've explained it to them at that point. Apparently one of them entered through the window. Then unlocked the door for the other to enter. At that point upon discovery one of them dialed 911. Now this is another interesting aspect as the above article I copied in its entirety states that the police responded to a call of a heart attack and discovered Josh's body. Why would the Police respond to a heart attack call and not an ambulance? And no mention of the above article says anything about the two friends discovering Josh's body. Not sure what to make of that.
ADDITIONAL UPDATE 6-26-2017
OK, I wanted to do an additional update to coincide with Josh's birthday coming up on the second of July. I have had some additional pieces to this murder I wish to share. Some will be very interesting. Here we go.
* Josh was found lying in a foyer inside the front door. The door was unlocked. Yet, The friends climbed in the window to get inside. The only reasoning is that Josh's body could have been an obstruction. Still why this was not mentioned to the police upon there arrival is interesting. The Police were paying close attention to the window saying there was "tampering".
* Terry (Josh's mom) was threatened with Arrest for "interfering" with her son's case. He did this in her own living room. This person has since recently retired from the department. Good riddance. Meaning she was conducting her own investigation and the police were pissed. Apparently she was doing a better job than they were.
* A Detective with the Frederick Police Department told Terry that "She would be shocked at who killed her son". So apparently they knew or had suspicions. Yet, Nothing has been done all these years.
* There was a girl that was interrogated for 9 days regarding this case. Her claims were dismissed.
* LE interviewed 70 people. No suspects were ever named.
* Josh's watch was pawned at a local pawn shop. LE recovered the watch. This should be relatively simple to see who pawned these items. At least at the time. Why nothing came of this lead is anyone's guess.
* The thermostat was turned down.
* No time of death was determined by the autopsy. Or at least that is what she was told.
* Apparently a stash of drugs that Josh hid was missing from the home when family searched it. This is could be a motive. It's definitely a clue. Only people close to him would know of this. Josh's mom didn't know there was a stash hidden. But his girlfriend at the time certainly knew this. Because upon entering the house she immediately went to look for it.
* Josh's Apartment was ransacked as if they were looking for something. Even the washer and dryer were unplugged.
* One of Josh's close friends committed suicide the years after Josh's murder.
* Terry received a confession via Facebook from a person who is now deceased. Stating the intent was to just rob Josh. Not to kill him. She then informed LE of this and they still have not done a damn thing.
* The Apartment Complex didn't keep the fliers up Terry made for Josh's case. Apparently the complex manager took them down.